+Digital copy gently provided by Netgalley in exchange for an honest review+
by
Mark Powers

,

Carlos Gómez
Hardcover
,
Signed Limited Edition
,
144 pages
Published October 25th 2016 by Dynamite Entertainment
Jim Butcher's The Dresden Files saga continues in this original and in-continuity graphic novel, featuring a never-before-told story set after the bestselling novel White Night and graphic novel Down Town! A bizarre double murder draws the interest of Chicago's only wizard-for-hire. But as Harry Dresden begins his investigation, the clues lead to troubling conclusions about the possible perpetrator, and set him on a path that will place him in the middle of a conflict between the city's three most powerful factions -- a conflict that could engulf all of Chicago
My rating: 3.5 psychopathic stars
It was a pretty generic story , for Dresden. A big baddie, an almost war, and the usual suspects. But I can't determine the exact timing for this story among the novels.
Some entity is causing trouble in Chicago, and people blame each other.
We find working together again Harry and Thomas . Molly is there, too. And Murphy shows a bit of her past.
(Li'l Karrin+dad)
(Is weird to see Butters like that)
But beside the usual beaten up Dresden, and the rush, something is missing. Marcone doesn't translate his personality in the comics. Lara is another matter, but we know almost nothing about her.
Thomas and Harry, in another hand,
-my favorite cover was the last one :)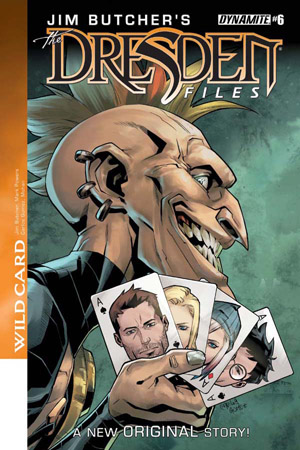 https://www.dynamite.com/htmlfiles/viewProduct.html?PRO=C72513024652306011
The ending is weak.
Historia entretenida, pero el final fue anticlimático.
Buen dibujo.