domingo, 20 de septiembre de 2015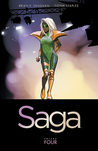 Saga, Volume 4
by
Brian K. Vaughan
My rating:
3 of 5 stars
review later, I think...

Some nights, even two friends deciding to get as close as humanly possible...
...could still be worlds apart.

Hay problemas de pareja ...
Enseña más acerca del Robot Kinddom, a dwarf world, between moon and planet that have to choose sides very very carefuly.
Nuestra heroina trabaja en un reality y se ve -->
spoiler
:
metida en drogas, y hasta un momento bastante WTF que no me gustó para nada lo que pasa después con Marco.
View all my reviews