by
399 pages
Published October 1st 2013 by Roc (first published October 2nd 2012)
ISBN 0451414837
(ISBN13:

9780451414830

)
bookshelves:
fantasia-urbana, not-sure-but-not-human, dioses-y-semidioses, demons, fae-or-fey-or-faery, werewolf-hombrelobo-lycans, norse-mythology, love-triangle-or-maybe-quartet, ondines, demon-spawn
If you're vacationing in Pemkowet, or anywhere on the planet with a functioning underworld, do not mess around with a Ouija board. The spirit you summon might just pay a visit. Mom learned that the hard way, and I'm living proof of it.
Daisy Johanssen, reluctant hell-spawn. That's me


Le iba a poner 3,5 estrellas, pero considerando el buen rato que pasé leyendolo, lo dejo así.
Pemkowet es un pueblo pequeño a lo Bon Temps (versión TrueBlood), con una variada (enfasis en variada) comunidad paranormal que convive codo a codo con los humanos amparados por un inframundo mitologico nórdico presidido por la diosa Hel (quien en caso que se lo pregunten es la hija de Odin, encargada de un reino de los muertos -Niflheim- , debajo de una de las raices de Yggdrasil).
-----------------
Daisy is a desk employee in Penwoket Police Station because the chief is aware of her special connections - she is half-demon and the agent of Hel (the goddess).
Hel keeps most of the eldritch folk in line. The rune inscribed on my left palm is a symbol that I'm licensed to enforce her rules and act as her liaison between the underworld and the mundane authorities. It works pretty well most of the time, at least with the eldritch who respect order. Unfortunately, there are plenty who prefer chaos.
The book start with the find of the body of a young man, maybe drowned. So we happen to be following clues trying to find the guilty part. And so we learn about the town, and the habitants: witches, fairies, vampires, driads, ondines, not-out-werewolves, the norse mentioned above, the Paranormal Tourism Office (we feel like watching Jaws again with those guy$), humans and their problems.
Daisy had to partner on this with a policeman -her childhood crush Cody (a werewolf), but things are not that simple, because of the only-mate-with-another werewolf thing (yep, we have Alcides all over again people!)
Did I mention that Daisy giving up in the dark side is not of the good? :nods sagely:
Oh, and don't forget about the yummy so-called-ghoul because THAT is not a ghoul! everybody knows that ghouls eat dead flesh from cemeteries! Well, in this case :
Talking about emotional junkies! He is more like a knight on a motorbyke type.
So love/lust/doomed triangle >.<
And don't even start with the nice-and-to-die-for-thighs guy who runs the fairysighseeing business.
Love/lust er quartet?
*Disturbing things happen in this book. Above all
violence against women
. Not just the veiled non-con of Daisy's mom. (spoiler--------->
AKA: That poor siren, and those evil and those cowards men
<-------------------------
[ AKA: That poor siren, and those evil and cowards men (hide spoiler)]
*Interesting characters: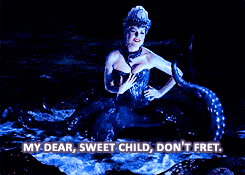 And more fun to come
View all my reviews